Add A Dash Of Ginger To Your Diet

This is not your typical holiday gingerbread cookies. Ginger- a rugged root. It is found in many recipes around the world since it can be used in sweet or savory dishes. Eaten on its own, ginger is spicy. Have an upset tummy? Drink some ginger tea or grate some fresh ginger into your hot tea. In addition to providing relief to an upset digestive tract: ginger kills parasites, stimulates circulation, reduces heartburn, relieves migraines, reduces inflammation, and stimulates appetite. Get rid of your Advil and tylenol because ginger powder can naturally relieve pain with its organic anti-inflammatory properties!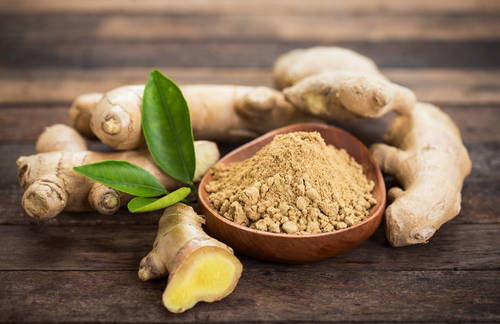 5 ways ginger can enhance your health

Adding ginger powder to your diet can be quite beneficial! Ginger powder is underratedly a very powerful anti- inflammatory, antioxidant, and is even used to heal muscle pain. Ginger in the form of a powder is known to be an effective source for weight loss. Add a half teaspoon of this powder into your hot water and you're good to go for the day. Keeping this powder in your diet will benefit in shedding your excess weight, flushing out toxins and keeping your digestion running smooth.
Weight loss
Ginger powder contains thermogenic agents which are essential in burning fat. Regular consumption of ginger powder may help to boost metabolism while burning off excess fat to help you lose more weight. Utilize ginger powder by adding it to your daily diet for weight loss.
Anti - inflammatory properties
Ginger's anti inflammatory properties effectively treat muscle pain or soreness that you may have from exercising. Ginger will start to take effect after consistent use to heal any aches or pains. After a week of use you may feel reduced muscle pain.
Beauty
Interesting enough, ginger powder is used in many skin care products to prevent acne and pimples. Its strong anti-inflammatory and anti-bacterial properties may aid in unclogging pores to kill acne. Mix milk with ginger powder and apply it to your skin and leave it for about 15-20 minutes. This mask will then rejuvenate your skin with a fresh glow.
Pain Reducer /Medicinal Properties
Ginger powder is known to be used for relieving pain by utilizing its' strong anti- inflammatory agents. Ginger, a vegetable root utilizes your pain receptors. Since ginger is considered an NSAID which are used to treat and relieve pain. As a result, it may reduce any joint or muscle pain you may be having. Ginger has a very long history of use in various forms of traditional/alternative medicines. It has been used to aid in our digestion, reduce nausea, and help fight the flu and common cold. This vegetable root can help with varieties of sensory and pain feelings since it works with your pain receptors so efficiently. Ginger powder is a potent ingredient in many food products and health supplements too. Taking a supplement of this kind to help motion sickness, loss of appetite, nausea, and pain.
Common cold
The anti-inflammatory property known as gingerols, in the ginger root may help to relieve symptoms of the common cold. Drinking it twice a day for relief, with warm water may help immediately in kicking off your cold.
Ginger powder is great for spice rubs and marinades for cooking. It is in the family of the Japanese spice blend.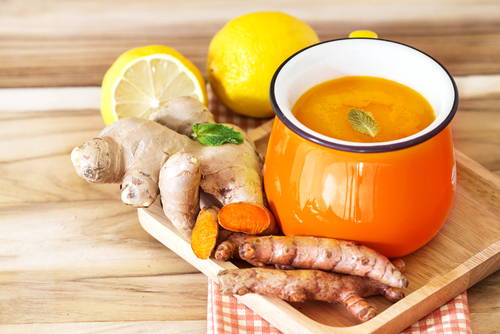 Fun fact: ginger and turmeric come from the same root family

Turmeric is a spice that belongs to the ginger family. Both ginger and tumeric have similiar active componenets. It provides you with antioxidents and also has a plant pigment called curcumin. Curcumin, the active ingredient found in both ginger and tumeric, gives tumeric and ginger their antioxidant qualities. Just like ginger, turmeric have anti-inflammatory properties that may treat anti-inflammatory conditions. These two powerful roots are known for their active healing and medicinal properties. They also have numerous properties that may help heal stomach aches in conjuction to respiratory sicknesses.
Ginger is not only a great anti-inflammatory but it also treats nausea and digestive complaints.
---
Healthy weight management
Codeage Forskolin Turmeric is a powerful fusion of forskolin with 20% standardized extract and turmeric root containing bioactive compounds for a fast acting* formula designed to support healthy weight loss, boost metabolism and reduce appetite.
Turmeric is a renowned spice that is found in turmeric plant. Turmeric can be found in many Asian dishes and recipes (in curry dishes for example). It has a unique taste and is frequently used to add a special flavor or color to dishes. The medical community also uses its roots for many of its benefits (extracting the curcumin). Turmeric is widely used for many conditions such as arthritis, joint pain, heartburn, liver problems, high cholesterol, inflammations or general fatigue.
So the question is, why should you take advantage of ginger powder? You don't need to use excessive amounts of ginger in order to get the benefits of ginger. Ginger powder will help you shed weight with its thermogenic qualities and will also give you numerous health benefits. With its' anti inflammatory properties you may heal any aches, pains or respiratory illnesses. Ginger will even help your skin by unclogging pores with its anti bacterial agents! So add it to your daily home cooking, smoothies or however you prefer. Being able to enjoy your favorite foods guilt-free are pretty awesome.