We already know that smoking, bad eating habits, and alcohol don't help avoiding cancer, but what if you wanted to take cancer prevention one step further? Although genetics and environment factors are out of our control, a good diet can play a large role in cancer development.
The American Cancer Society estimates that around 35% of cancers are related to dietary factors. So, experts say EAT RIGHT and we are here to give you all the details about what can you eat to help you avoid cancer.
Foods you should avoid:
Don't eat more than 3 ounces of red meat daily (about the size of a deck of cards)

Limit fatty foods

Salty Snacks

Minimal alcohol

Preserved foods

Deep fried foods

Excessive intake of salt, sugar, or oily foods,

Processed meats such as bacon, ham, sausages

Preserved foods
Eating a balanced diet can help protect you from certain diseases, regulate your blood cholesterol levels and provide antioxidants. Processes and refined foods typically are loaded with saturated fats, sugar, and calories which undermine weight control. Although indulging in a big bowl of ice-cream or a juicy hamburger most of the time you should consume foods that will help you strengthen and maintain your immune system and give your body the nutrients they deserve!
Foods you should consume:
→ Vegetables:
Green leafy vegetables for calcium & iron

Asparagus and brussel sprouts for rich antioxidants

Cruciferous vegetables such as broccoli, cauliflower, and cabbage.

Tomatoes

Parsley

Carrots

Peas

Pupkin

Turnips

Avocado
Basically all the vegetables to give you the vitamins and fiber you need which also brings me to the next thing on our list…
→ Fruits:
Oranges

Bananas

Kiwi

Peaches

Mangoes

Pears

Strawberries

Guava

Apricots

Figs

Prunes

Raisins

Apples
Then we have the thing that gives us our energy, that fills up our tummies, and gives us the nutrients that strengthen our bones and muscles.
→ Proteins
Lean meat

Fish

Eggs

Dairy products

Nuts

Dried beans  

Chickpeas

Soy based foods
Last but certainly not least, carbs, a comfort food that heals our soul..can certainly be eaten and enjoyed.
→ Carbohydrates
Rice

Noodles

Whole Grain bread and pasta  

Oats

Corn

Potatoes and sweet potatoes

Beans
Eating a balanced diet can help protect you from certain diseases, regulate your blood cholesterol levels and provide antioxidants.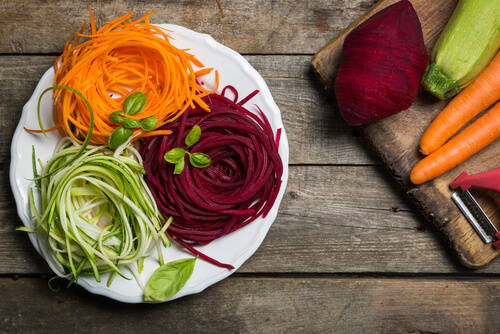 More tips for your day to day diet
Breakfast and Snacks
A balanced breakfast and two or three snacks can help give you energy for your day. Have a small cup of orange juice, a scrambled or pan-fried egg and a piece of whole-wheat toast for breakfast. Also try a fruit and yogurt smoothie and a bowl of warm oatmeal. Avoid greasy breakfast foods such as turkey sausage or bacon. Healthy snacks include cereal and milk, granola, yogurt, fruit, and nuts. If you are most hungry early in the day, the National Cancer Institute recommends eating the majority of your calories when you are hungry to try and meet your nutritional needs.
Lunch and Dinner
Soup is filling, beans are a good base, seafood is nutritious such as grilled or baked salmon, which can give you necessary fats that can help your body with tissue repair. Chicken, baked turkey or tender pot roast offer you protein, which your body needs. Other protein options include beans, and tofu which you can use as a main lunch or dinner dish, or vegetarian meat-substitutes such as soy burgers. Healthy side dishes include cooked or raw vegetables, whole-wheat bread, fruit, whole-wheat spaghetti or green salads.
Special Needs
If you have diabetes, heart disease or cholesterol problems, your doctor or nutritionist will likely develop an individualized eating plan for you. A diabetic needs a diet to balance blood sugar, while those suffering from heart disease or cholesterol problems may need to follow low-fat, low-cholesterol diets.
If you're concerned about your risk, talking to a doctor or a dietitian about foods to eat or avoid is a good first step.
Soil based organisms probiotic at your reach  
Codeage SBO Probiotic + is an all-in-one digestive support and immune system supplement specifically formulated to support healthy nutrient absorption, digestion, microbial balance and a healthy immune system. Those probiotics are specially designed for both men and women.
Probiotics are the 'good' bacteria that line the digestive tract and support the body's ability to absorb nutrients and maintain balance. Codeage SBO Probiotic + is a powerful fermented food and botanical formula providing 50 billion CFU* of soil-based organisms and prebiotics contained in a unique and patented Delayed Release Capsules (DRCaps) for maximum efficacy.
Six different strains of probiotics, including bacillus subtilis, bacillus clausii and bacillus coagulans give you the needed range of benefits to help support comfortable digestion for those difficult-to-digest foods, such as gluten and lactose.
If you're concerned about your risk, talking to a doctor or a dietitian about foods to eat or avoid is a good first step. Just like genetic factors and lifestyle choices, food is only part of the picture. You shouldn't rely on it as your only preventive action!
More studies are needed to understand how these foods may directly affect cancer development in humans. In the meantime, it's a safe bet that a diet rich in whole foods, paired with a healthy lifestyle, will improve many aspects of your health.No single food or food component can protect you against cancer by itself. But research shows that a diet filled with a variety of vegetables, fruits, whole grains, beans and other plant foods helps lower risk for many cancers. Making proactive dietary choices has no downside. In addition to potentially reducing your risk for types of cancers, healthy eating can improve your overall well-being. It helps keep your energy up, boost your immune system, and provide nutrients your body needs for maintenance and repair.