How To Eat Your Way To Better Health With Super Greens

With Obesity, Hypertension and other health-based problems on the rise, recent healthy-eating trends have redirected popular focus towards a more nutritious diet.

The best course of action is to aim for a balanced diet, with plenty of leafy greens and vegetables. Leafy green vegetables are a fantastic source of healthy fiber and packed full of essential vitamins and minerals. Low in calories, leafy greens are being touted as a solution to countless health concerns. Doctors recommend consuming vegetables raw, to reap the full benefits of their nutritional value.
With raw food diets trending these days, why not get in on the fun?
If you're new to the game, it might be a bit daunting, sifting through the mounds of information available on the subject. Here are some basic, and delicious super greens that you can't go wrong with.
Different types of greens and their benefits
Collard Greens
Collard greens are related to kale, boasting a thicker leaf, and better taste. Collard greens are one of the best sources of Vitamin K. Just half a cup of chopped, collard greens is enough to fulfill your daily recommended Vitamin K intake of 90 mcg. It also plays host to a wealth of other nutrients such as Vitamin C, A, B9 (Folate) and calcium.
Their mild flavor makes collard greens a good place to start in your raw food journey. A favorite staple in the American South, the leaves of this super green are versatile, adding a charming twist to salads and smoothies alike.

Swiss chard
With its beautiful, dark-green leaves and nutrition-packed, crunchy stem, Swiss Chard is one of the healthiest greens on our list. Prominently featured in Mediterranean cuisine, Chardowes its rich, earthy flavors to the variety of minerals and vitamins it contains. Alongside Vitamins A, C, and K, as well as Potassium and Manganese, Chard also contains Syringic acid which helps control blood sugar levels.
Also available in a Rainbow variety, Swiss chard and its delicate leaves work best in salads -- try tossing it with some lemon juice and parmesan to really enjoy the full flavors.
Alternatively, have fun with your juice cleanse, and blend this super green with fruits like bananas and oranges for days when you want your chard fix in a nutritious green juice.
Codeage Multi Collagen Raw Greens has 21 Organic plant nutrients, raw organic fruits and greens ingredients.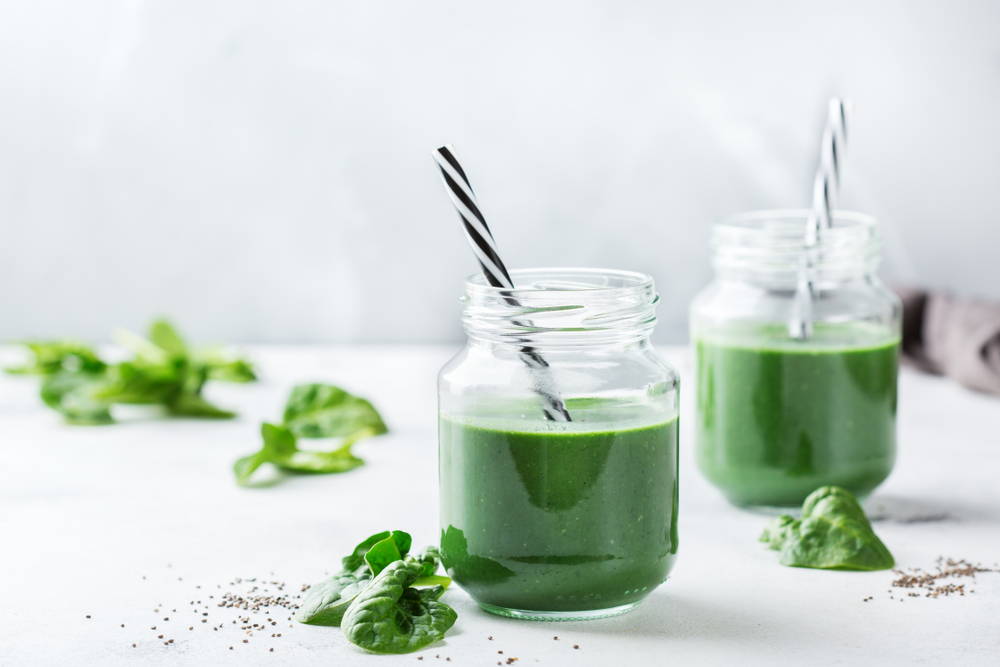 Spirulina, another green veggie, is a fantastic source of antioxidants which can protect your body against oxidative damage.
Spinach
A great source of antioxidants, Spinach boasts Vitamins K and A, Manganese, and is rich in Folate. Folate is a naturally occurring B Vitamin, essential to the synthesis of red blood cells. This super green helps boost cardiovascular health, and reduces the risk of spina bifida during pregnancy.
Nutrient-rich spinach is also a great source for essential minerals like Iron and Calcium, helping to boost the nervous system and bone health, and may help reduce the risk of breast, and prostate cancer.
To get the best flavour and nutrition from your raw spinach, opt for the smaller leaved variety, called Baby Spinach. Mature Spinach leaves can be consumed raw if you don't mind the slightly bitter taste. Baby spinach is sweeter and works well with all sorts of raw salad ingredients.
Bok Choy
Bok Choy is a nutrient-dense Crucifer, closely related to cabbage. Also known as Chinese Cabbage, this staple of traditional Chinese cuisine and medicinehelps increase immunity, cognitive function, and aids in the reduction of cancer risks. Numerous studies have also identified the role that the consumption of Bok Choy and other Cruciferous vegetables play in preventing and combating various forms of cancer. According to the Chinese, the best way to eat this green superfood is in a broth. However, a light, fresh salad gives Bok Choy a chance to show off its distinctive taste.
To make your own, whip up a quick dressing with sesame oil as your base and add in some minced garlic, vinegar, and a dash of soy sauce. Drizzle onto chopped Bok Choy and sliced cucumber, toss and serve!
---
Pure and clean whole foods with collagen
Codeage Multi Collagen Raw Greens is a high quality blend featuring five collagen food sources and five types of collagen: I, II, III, V, and X and 21 organic raw fruits and veggies, providing an all-in-one, on-the-go solution may help you get the collagen, greens and whole food vitamins covered for the day.*
Collagen is a key protein for our body and one of the most abundant. Unfortunately, it is mostly absent from our standard modern diet. You can find collagen in many parts of your body including your muscles, your digestive system, the bones, your skin, face, tendons and even your blood vessels. For tendons and joints, you can imagine collagen as the adhesive that keeps our bones together. The body also uses collagen for our skin, providing it with natural elasticity and resistance to reduce wrinkles.
As we get older, our body produces less collagen of its own. We can see this happen when we experience joint pain, additional or more visible wrinkles on our youthful face and other similar challenges to our health and overall vitality. That's when we need to start using the best collagen supplement for skin possible (sometimes referred as collagen pills for skin).
Nutrition and lifestyle have a strong impact on the level of collagen of our body and can lead to collagen depletion. We need to maintain good levels of collagen as depleted collagen levels is often correlated with many modern diseases.
A breakthrough in protein supplementation that delivers the benefits of homemade ORGANIC bone broth, a high-quality blend of grass-fed beef, chicken, wild caught fish, and eggshell collagen peptides, providing all five collagen Types I, II, III, V and X plus the organic greens your body craves in a convenient all-in-one, on-the-go solution to get all of your collagen, greens and whole food vitamins covered for the day.
These green superfoods are easily available and a great starting point for those who are new to raw greens. If you are looking to try out a raw, green-intensive diet, be sure to balance your intake, and add variety by trying other vegetables as well. The USDA recommends upto 5 servings of vegetables per day.
Fresh raw greens can be stored in the fridge for up to 4 days. Simply place the greens in an air tight container, along with a paper towel - the paper towel helps absorb any excess moisture, and the container keeps the leaves fresh and crispy.